The Westonbirt Orchid Medal
Congratulations to our orchid expert Brendan Sayers, on receiving the Westonbirt Orchid Medal for 2017.
The Westonbirt Orchid Medal is awarded to an individual for any scientific, literary, or any other outstanding personal achievement in connection with orchids.
The medal was provided from a fund presented in 1960 by Mr HG Alexander, in commemoration of the collection of orchids made at Westonbirt. The winner of this medal is selected by the RHS Orchid Committee. Recent recipients are Harold Koopowitz (2014), Richard Warren (2015) and Dr. Mark Clements (2016).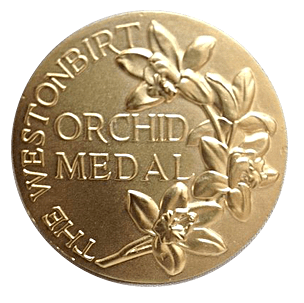 Brendan has dedicated a lifetime to the study, cultivation and conservation of orchids, both Irish and tropical, and a worthy recipient of this award. He is the author of a number of books in collaboration with artist Susan Sex. In 2011, Brendan was the recipient of the H.H.Bloomer Award from the Linnean Society of London in recognition of the valuable contribution his books on Ireland's Wild Orchids have made to biological knowledge.