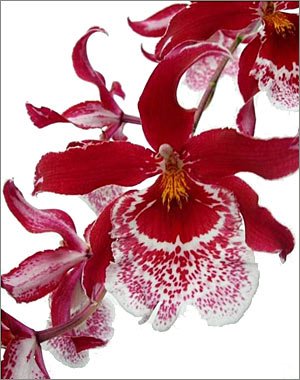 (pronounced vool-steek-ee-AH-ra)
Like the Burragearas mentioned earlier, these are inter-generic hybrid epiphytesA plant which grows perched upon another plant but does not derive its nourishment from it.. In the case of Vuylskekeara the breeding cocktail is a mix of the genera: Cochlioda x Miltonia x Odontoglossum. The cultivar "Cambria Plush" is a classic highly distinctive plant created in 1931 and is often seen in supermarkets today. It seems to continuously produce flower spikes and is undoubtedly beautiful and is more vigorous and easy to grow than the Burragearas.
Temperature
Intermediate. Night temperatures approximately 12° to 14° C with a daytime rise of about 10° C.
Light
Moderate.
Watering
Average during summer and reduced in winter.
Feeding
Moderate.
---
Did you know…
Vuylkstekeara "Cambria Plush" is one of the elite orchids having first class certificates from both the American Orchid Society and the Royal Horticultural Society!