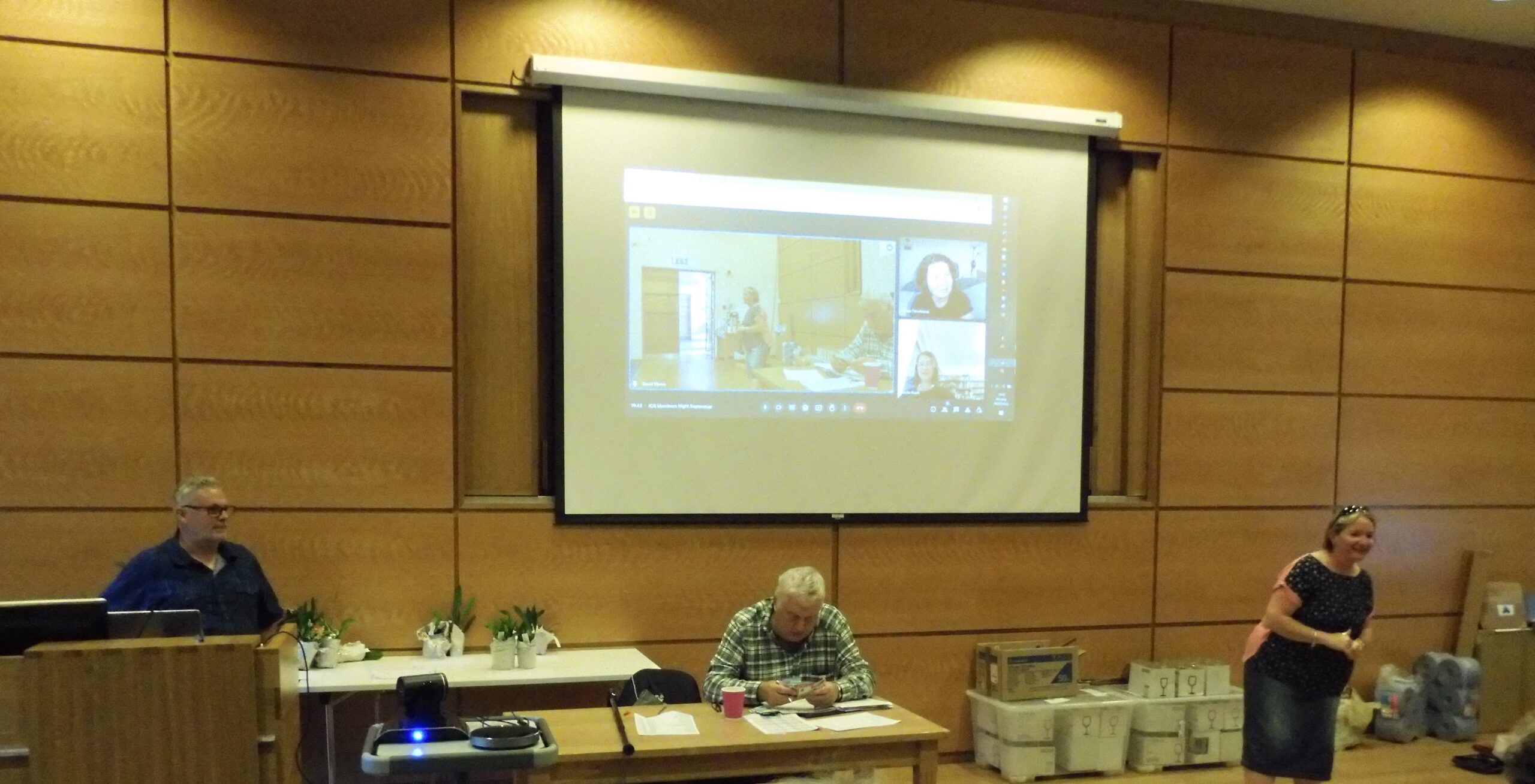 Monday 4th September 2023
The first IOS meeting of the new season took place in the lecture theatre of the National Botanic Gardens. This was the first meeting which also took place online facilitated by our new conference equipment.
Twenty members attended, seventeen in-person and three online including Aleks who joined us from her new home in Strasbourg.
The evening began with a welcome by the Chair, Marie Hourigan and then a presentation by Deputy Chair David Morse on his interest and life-long love of orchids. You can see the presentation slides here
Then followed a discussion on the plans for an alternative to the Orchid Show and plans for a trip next year (see below).
A raffle was held on the evening with the prizes being free plants secured from the orchid suppliers for our group purchase. This raised €70
Prizes were also handed out from the online raffle. 192 tickets were sold which raised €134.
Then the plants order was distributed and the evening ended.
An alternative to the Orchid Show.
As an alternative to the very popular annual Orchid Show that took place at the NBG; it is proposed to take a stand at Bloom 2024 instead. This will be a much greater undertaking than the NBG option as 99% of the organisation was done by the Botanic gardens. The Bloom 2024 option will be entirely on the shoulders of the Society.
We don't need a large stand, but what we do need are a display of orchids and plenty of people to attend the stand. Bloom runs over six or seven days. After the set up time/day; the stand will need to be covered from 9am to 6pm Thursday 30th May to Monday 3rd June. It is proposed to do this in two shifts per day, Morning and Afternoon.
Members who join in the effort to man the stand will also have access to Bloom before or after their shift.
Express your interest in manning the stand at Bloom 2024
IOS May Trip
We have provisionally held a date of the 11th May 2024 to visit The Mathers Foundation in the South East of England. This is very close to Kew Gardens and RHS Wisley both have an extensive orchid collection and display house.
It would be a long weekend. The details and cost are to be worked out yet, but it is proposed that to reduce travel-time we fly into one of the London airports on Friday morning and depart on Sunday evening. If you are interested in being part of this trip, please can you express your provisional interest by completing the form? This isn't an obligation, just to give us an idea of numbers interested.
The outline proposed agenda would be
Depart Friday Morning 10th May
Friday Afternoon: RHS Wisley to view their new Orchid House.
Overnight stay with group dinner
Saturday: a guided tour of The Mathers Foundation, a private orchid collection, see more here
Overnight stay with group dinner
Sunday: Visit to the orchid collection at Kew Gardens
Depart Sunday evening
Express your interest in joining this trip

IOS Member's Night October
2 October @ 7:30 pm

-

9:30 pm

Hybrid Event

Free – €5.00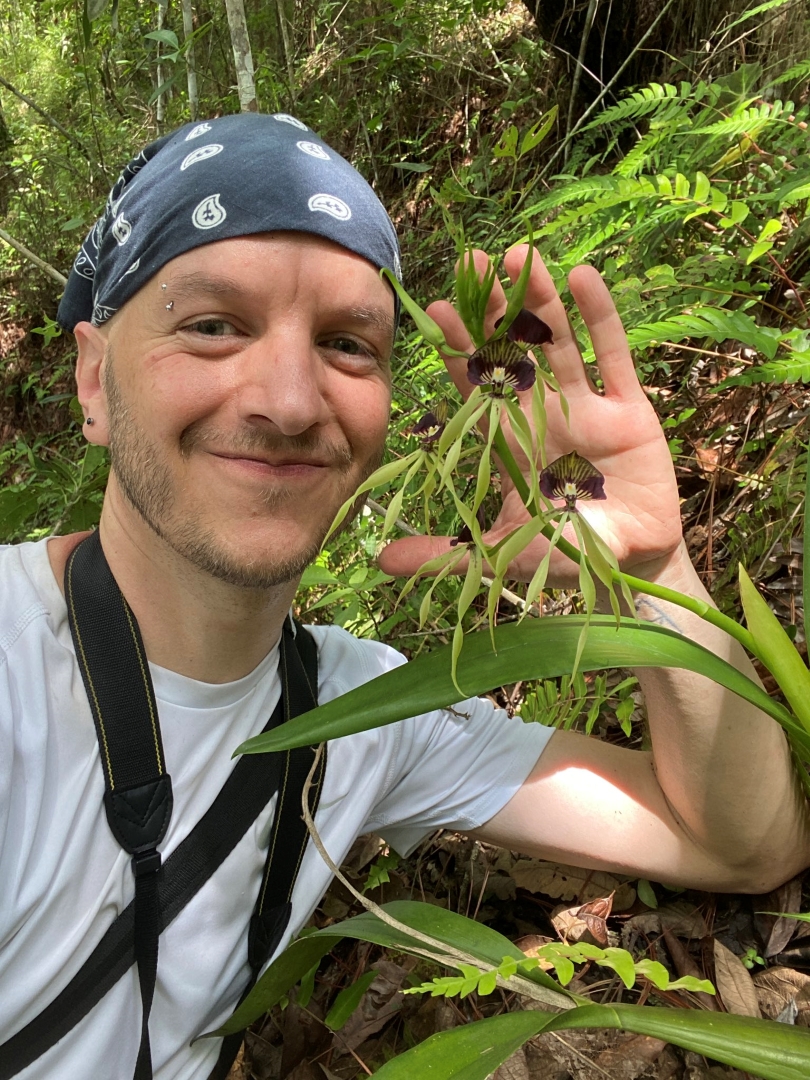 October Member's Night.
We will be at our usual venue in the lecture theatre at the National Botanic Gardens, Glasnevin, Dublin
Presentation on Guatemalan Orchids
by Challen Willemsen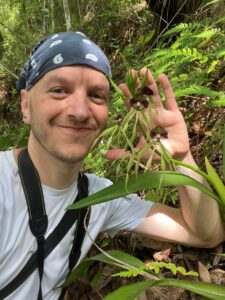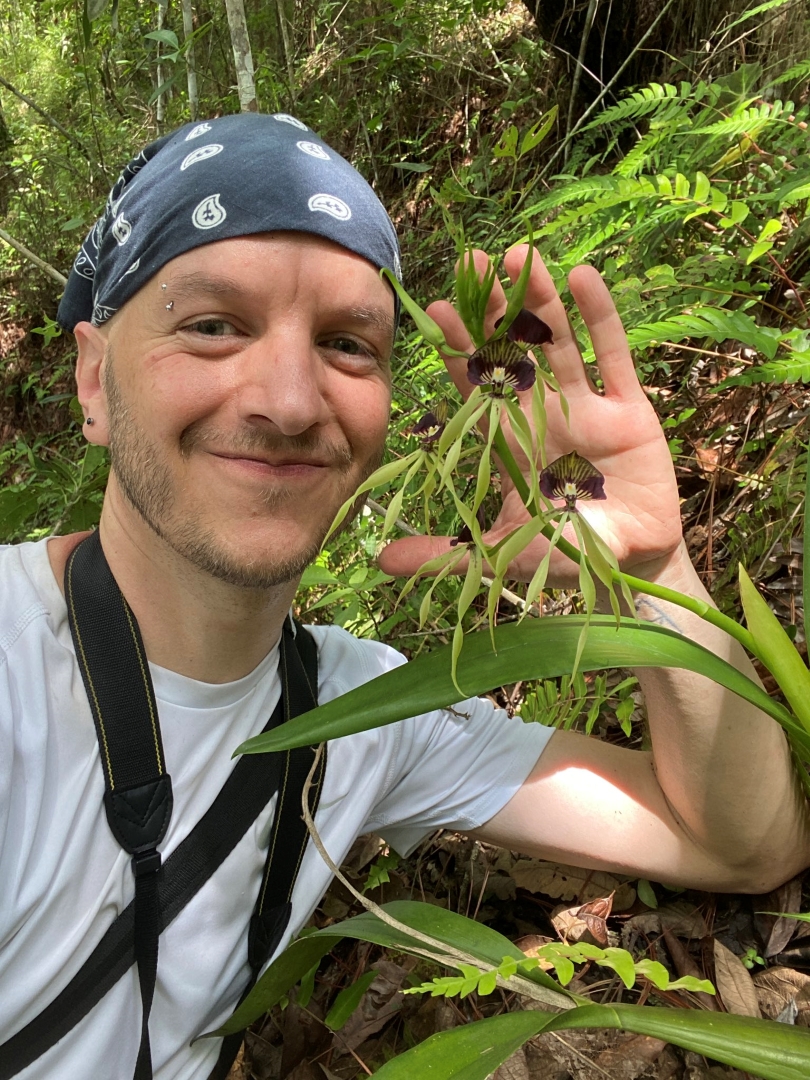 At the October meeting we are both delighted and excited to have Guatemalan ecologist Challen Willemsen giving an online presentation from his cloud-forest clad homeland.
Challen's passionate about botany, particularly neotropical orchids and epiphytes in general. He leads ecological tours and occasionally teaches online courses on botany, as well as Guatemalan plants and ecosystems.
A member of the IUCN (International Union for the Conservation of Nature) Species Survival Commission - Orchid Specialist Group. He is also a volunteer at El Tular Nature Reserve outside Guatemala City.
In May of this year Challen was awarded a Conservation Grant by the American Orchid Society to deepen the scope of his work at the reserve.
Raffle


Paph. rothschildianum x Jerry Spence


Rlc Hsinying Sunbeam "Auranti Gem"

Join in online
This event is a hybrid event which means that if you want to attend in person you are very welcome to, just go the the IOS October Meeting Member's In-Person attendance and click the orange Going button
If you cannot attend but want to participate online, go to the IOS October Meeting Member's Virtual Attendance and click on the orange Going button and a link will be sent to you.
On the night a link to the event will appear on this page 15-minutes before the start of the event which when clicked will allow you to view and participate with the event online by video.
The evening is only available free to members of the Irish Orchid Society.
Public Tickets.
However if you are not a member, you can attend in person, there is an entry fee of €5 or you can pre-purchase a ticket online.

The members night is now on
IOS October Meeting Member's Virtual Attendance
If you are a member of the IOS and want to join in the meeting online/virtually, select this option and you will receive a link to join in with Google Meet online.
IOS October Meeting Member's In-person attendance
Let us know if you are coming along to the meeting in-person by clicking the RSVP button.
Related Events